Primeros y segundos
A continuación exponemos alguno de nuestros platos con mayor demanda
First
TOASTED bread with tomato garlic and oil

FRIED SQUID

SNAILS "O MEU LAR"

GREEN SALAD

Tuna and Asparagus Salad

Goat cheese salad.

PADRON PEPPERS

CROQUETTES OF SQUID INK

ASPARAGUS from Navarre

ASPARAGUS WITH HAM

IBERIAN HAM

MANCHEGO CHEESE

GRILLED GALICIAN SAUSAGE

PORK STEW "O MEU LAR"

GALICIAN OCTOPUS "Feira style"

PRAWNS "O MEU LAR"

SAUTÉED CLAMS

COD AU GRATIN STYLE O MEU LAR

.
Seconds
ENTRECOTE OF T. GRILLED GALICIAN (500 GR).

T-BONE STEAK T. GRILLED GALICIAN ( 1 KG ).

AGED BEEF SIRLOIN ( 500 GR).

GRILLED RABBIT

CHURRASCO OF VEAL

GRILLED CHICKEN

ARANDA PIGLET

BUTIFARRA FROM GIRONA

LAMB SHOULDER

LAMB CHOPS

GALICIAN BEEF SIRLOIN

FISH GRILLED FRESH MONKFISH , HAKE ,GOLDEN … )
The authentic Galician meat made to natural charcoal-grilled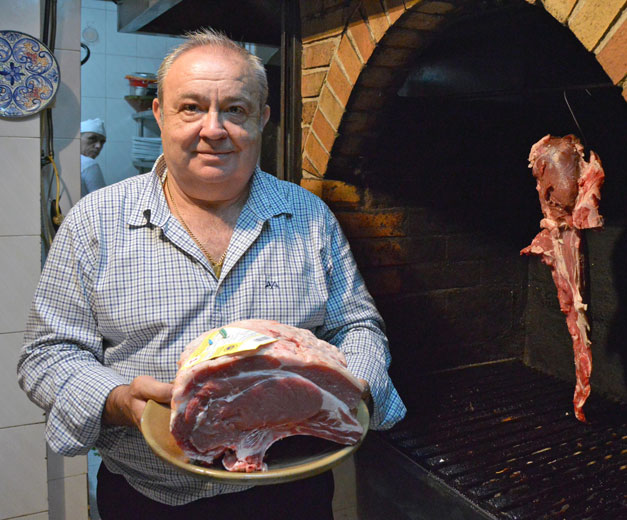 History
Antonio: After arriving in Barcelona from their native Galicia more or less in the year 1970 He began to discover the world of the restoration.
Working on the premises more important era coffee shop Plaza (Plaza Catalunya),(the Pergola),(Seafood restaurant Carballeira,during 14 years). He then decided to work on their own in the Rte garden, the Estrella de Mar. He then decided to mount a local with the ideas that were always about him by the head (A kitchen, with a natural barbecued, traditional cuisine but of great quality in a friendly, rustic and cozy ) then with the help of his wife and their
Children. In the year 1989, Antonio opened the Brasserie "O Meu Lar". A Galician Brasserie to 15 MN from the Centre of Barcelona, in the District of Poblé SEC, where in more than 20 years of dedication and good work,This family business has become a name of reference in the sector (one of the Galician most popular in Barcelona restaurants).